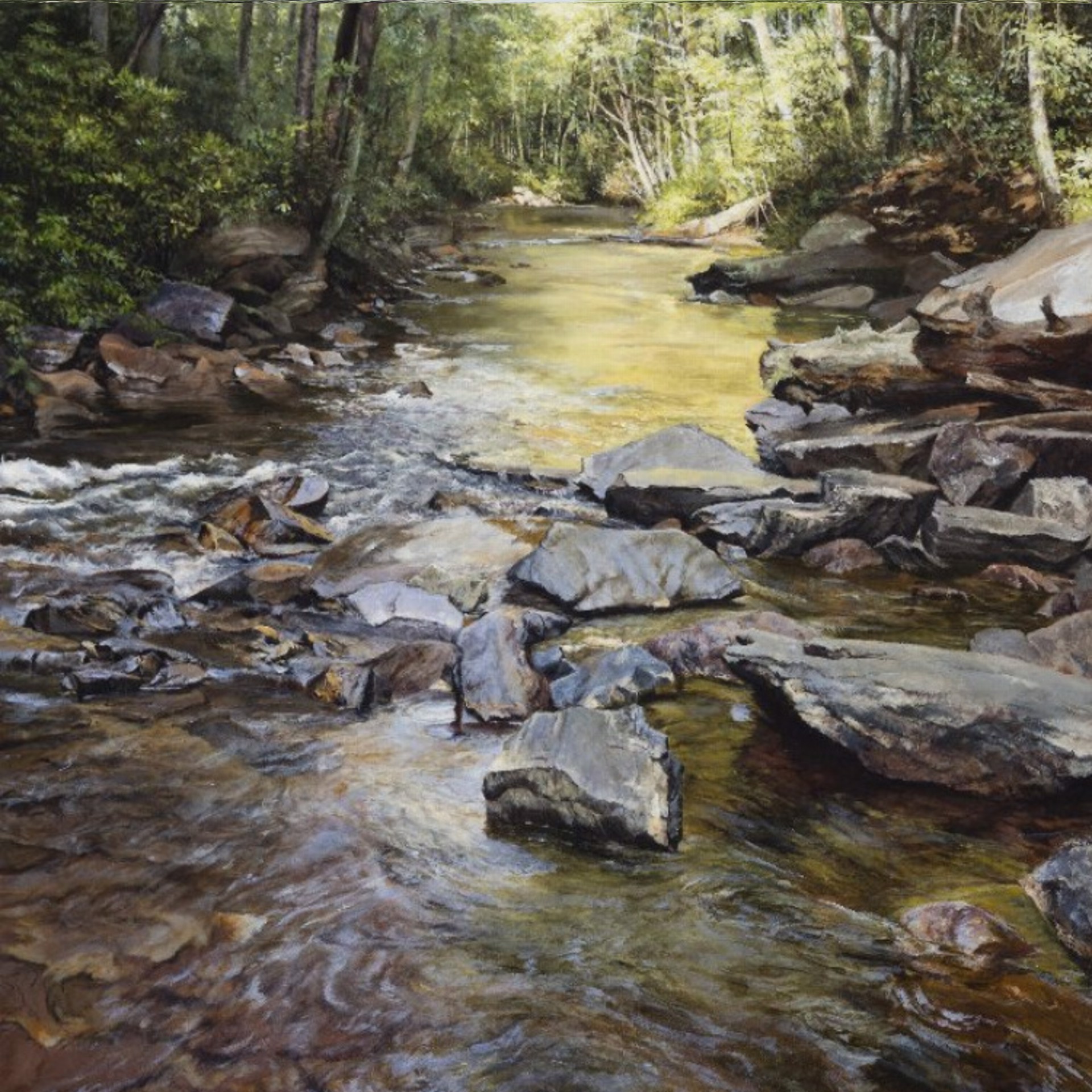 Cora Ogden is a contemporary realist painter who lives and works in Raleigh, North Carolina. She earned a BFA in painting from the University of South Alabama in 1972, then a MA in sculpture from the University of New Mexico. The sculpture background is an important element in her paintings which are strongly three dimensional and encourage one to step into the picture plane.
After university, Cora spent ten years in the corporate world, working and commuting to Manhattan. She married, had a son, and then with the support of her husband Mills began to seriously focus on her art. The Ogdens spent many years in Memphis, Tennessee where Cora built a successful following for her work. Six years ago, she and her husband decided to return to Connecticut and discovered the shoreline area.
Cora has become very involved with arts organization along the shoreline, and exhibiting in local venues. She is a founding member of the Killingworth Center for the Arts where she will be teaching still life workshops. She is an Elected Artist at the Lyme Art Association and serves on its Board of Directors. Her work is held in corporate and private collections throughout the country, particularly in the South and Northeast.
"The amazing quality of light here has inspired me to paint many landscapes of the Connecticut shoreline that reflect the traditions of the American Impressionists.""In my work", she says, "I create oases to provide us with a respite from an overwhelming, noisy, world. My goal is to connect with the viewer on a visceral level – first through light and color. With each painting I say 'Quick, come and catch this moment with me before it is gone!' Stand on the sand dunes at day's end and feel the cooling of the air, the quiet that can be heard even above the surf. Walk past a room and see the startling beauty of sunlight on a flower, and how that light plays across the table. We react to these images physically first, then intellectually, often bringing our own wealth of memories to enrich the narrative. My work is figurative in the sense that the presence of a person is strongly felt. Perhaps someone was arranging flowers and was called away. Or, maybe they are standing with us experiencing the breeze rippling meadow grasses. Light, color, texture and pattern are my tools to guide viewers through the work and entice them beyond the surface of paint into the image itself– experiencing my reality – not simply observing it."
Most days you'll find Cora in front of her easel. Years of studio work and discipline are evident in her mastery of drawing and the classical traditions of painting. She will insist, however, that the hard work is really passion. "I have to do this", she says. "It is who I am."

Education:
1972 - BFA University Of Southern Alabama, Mobile, AL
1974 - MA University of New Mexico, Albuquerque, NM

Selected Public Collections:
Independent Bank, Memphis, TN
Morgan Keegan Financial, Placements in Corporate Headquarters and in: Nashville, TN, New York City, and Birmingham, AL
First Tennessee Bank, Corporate Art Foundation, Memphis, TN
Davidson Hotels Inc., Memphis TN
NexAir, Memphis, TN
Roosevelt Paper Company, Philadelphia, PA
Christian and Small, Birmingham, AL
Florence Griswold Museum, Old Lyme, CT
Read More
Click on the paintings to enlarge