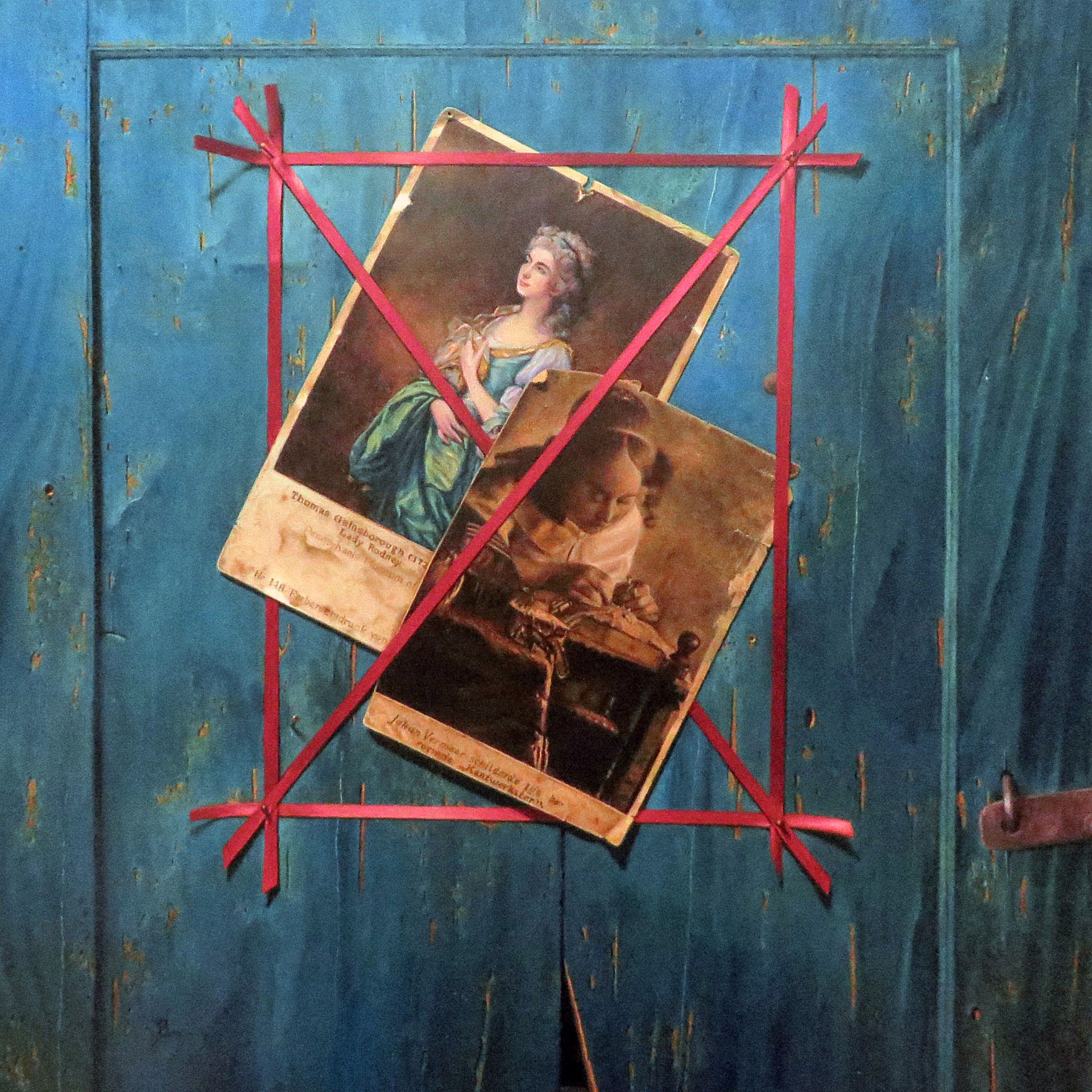 Dan Brown is a nationally acclaimed artist specializing in trompe l'oeil, realistic images that literally, "trick the eye." Dan Brown was born in Syracuse NY in 1949. He fondly recalls his childhood when he sketched sports heroes from newspaper photos. As a teenager, he enrolled in art classes at Syracuse University and the Everson Museum of Art, Syracuse's pre-eminent art museum. After high school in 1967, Dan attended The Paier College of Art in Hamden CT. Over four years, he received a thorough and rigorous grounding in traditional drawing and painting. He studied with the renowned American realists Ken Davies and Peter Poskas. Relying on the skills he learned from Ken Davies and the magic of the nineteenth century painter of currency Otis Kaye, his direction is focused toward trompe l'oeil, painting objects with lettering, such as currency, books, mementos and vintage postcards. These unique still life paintings are extremely time-consuming achieved with intense concentration, and have become a true labor of love.
Dan honed his skill and vision as a fine artist, drawing inspiration from Winslow Homer, Edward Hopper and Andrew Wyeth. Early on, he pursued a career in illustration where his talents became much sought after. His illustrations graced the covers of hundreds of book covers, magazine stories, and commercial advertisements. His portraits of Bob Dylan and other rock and roll legends are part of the collection of Rolling Stone Magazine. Two paintings for the United States Army Reserve hang in the Pentagon. His painting depicting the Pentagon the morning after the 2001 terrorist attack hangs in the permanent collection of the Army War College in Carlisle PA.
Dan has had numerous one man shows and his work has received glowing reviews in many publications, including American Art Collector, New York Sun, Cape Cod Times and New Haven Register. His paintings hang in private collections from Cape Cod to California, in Canada and the United Kingdom. Dan passed away on May 17, 2022.
Selected Exhibitions
2018 Susan Powell Fine Art, Madison, CT
2017 Susan Powell Fine Art, Madison, CT
2016 Susan Powell Fine Art, Madison, CT
2015 Susan Powell Fine Art, Madison, CT
2011 Principle Gallery, Alexandria, VA
2011 Seascape Art Show, Westhampton Beach, NY (solo)
2011 Greenwich Workshop Gallery, Fairfield, CT
2011 Susan Powell Fine Art, Madison, CT
2010 Seascape Art Show, Westhampton Beach, NY
2010 Greenwich Workshop Gallery, Fairfield, CT
2010 Susan Powell Fine Art, Madison, CT
2009 Seascape Art Show, Westhampton Beach, NY (solo)
2008 David Findlay Galleries, NYC
2008 Pogan Gallery, Lake Tahoe, CA
2008 Greenwich Workshop Gallery, Fairfield, CT
2008 Greenwich Workshop Gallery, Fairfield, CT (solo)
2007 Pogan Gallery, Lake Tahoe, CA
2007 David Findlay Galleries, NYC
2007 Greenwich Workshop Gallery, CT
2006 David Findlay Galleries, NYC (solo)
2006 Pogan Gallery, Lake Tahoe, CA
2006 Greenwich Workshop Gallery, CT
2005 David Findlay Galleries, NYC
2005 Pogan Gallery, Lake Tahoe, CA
2005 Greenwich Workshop Gallery, Fairfield, CT
2005 Robert Wilson Gallery, Nantucket, MA
2005 David Findlay Galleries, NYC
2005 Pogan Gallery, Lake Tahoe, CA
2004 David Findlay Galleries, NYC
2004 Robert Wilson Gallery, Nantucket, MA
2003 David Findlay Galleries, NYC
2003 Robert Wilson Gallery, Nantucket, MA
2003 David Findlay Galleries, NYC (solo)
2003 David Findlay Galleries, NYC
2002 David Findlay Galleries, NYC
2001 Winstanley-Roarke Gallery, Dennis MA (solo)
2001 David Smith Gallery, NYC (solo)
2000 Winstanley-Roarke Gallery, Dennis MA
1997 Franklin Fest, NYC
1996 Franklin Fest, NYC
1993 Greene Gallery, Guilford CT (solo)
Read More
Click on the paintings to enlarge