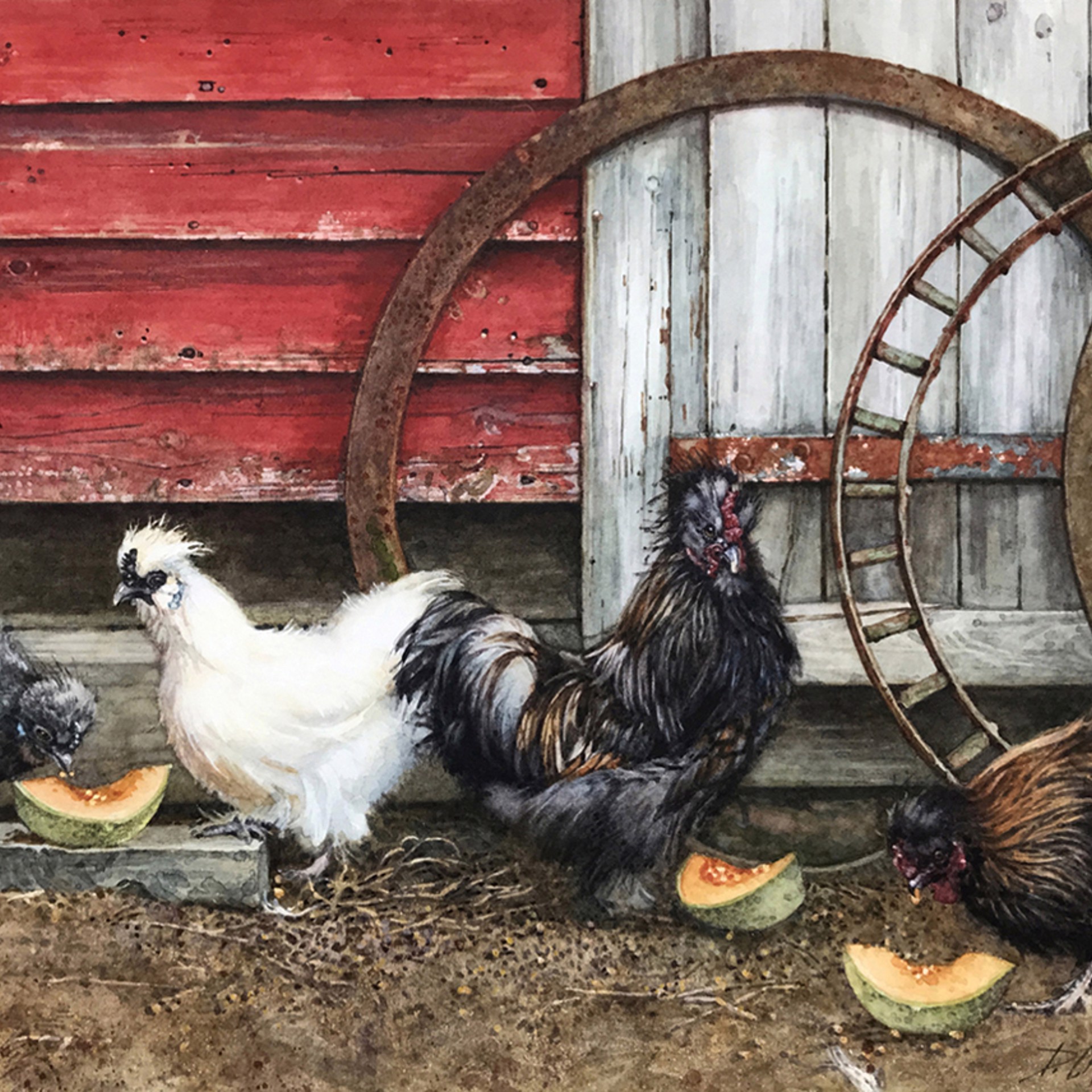 "To me architectural and still life paintings are anything but still… they are personal narratives, full of life, that tell the story of a person, time, and place that I find… endlessly inspiring."
Deborah Chabrian is a watercolor artist who transforms houses, gardens, and objects into vibrant narratives. Her paintings have been included in numerous exhibitions throughout the United States and have been awarded honors from The American Watercolor Society, The National Watercolor Society, The Portrait Institute, The National Academy of Design, and The Society of Illustrators. Her work graces more than 500 book covers and is featured in numerous books and magazines focusing on Fine Art.
Passionate about art since childhood, Deborah was born and raised in Illinois, and won a full scholarship to Parson's School of Design in NYC, from which she graduated with Honors. There she met her husband, portrait artist Edward Martinez, and they are each other's strongest supporter, and most critical second eye. Over the years, they have studied with many inspired artists, most notably, teacher and master realist painter, Burton Silverman. As a lover of watercolor, Deborah discovered Silverman first through his book, Breaking the Rules of Watercolor, which led to several years of personal study in his NYC atelier. Silverman said of Chabrian: "In some measure Deborah's work is more than the watercolor medium she uses. Its excellence relies on her visual sensitivity and her expressive content to talk about the wonder of the ordinary, to reveal what our eyes usually just record without really seeing. In this regard, her work is very special indeed."
Deborah was chosen to paint at The Forbes Trinchera Ranch in CO, which culminated in a show at the Forbes Museum in NYC. She won the American Artist's Cover Competition, and her work appeared on the cover of the 2008 Summer issue of Watercolor Magazine. Recently she has been a finalist in Plein-Air Magazine, Splash, and ARC's Annual Competitions. Most recently, Deborah's paintings were featured in The ARC 14th Annual Salon Catalog and Splash 16.
Notable American Artist Editor, M. Stephen Doherty describes Deborah as "one of the most gifted artists working in the watercolor medium today. Her warm, engaging, and sensitive paintings demonstrate both her well developed skills and her understanding of great art."
Deborah paints still life, figurative and architectural subjects for commercial and private commission in her studio located in an 18th century Farmhouse in rural CT, which she shares with her artist husband and their two children.

Selected Exhibitions and Honors:
2020 Artistic Excellence Competition, One of 'Top 100' Southwest Art Magazine
2020 Adirondacks National Exhibition of American Watercolors, Old Forge, New York August/September 2020
2020 14th International Virtual ARC Salon Exhibition, Sotheby's.com https://sothebys.com/en/articles/contemporary-realism-14th-international-virtual-arc-salon-exhibition
2020 Susan Powell Fine Art, 'Summer in New England' Madison, CT
2020 10th Annual Plein-Air Salon Competition, 'Best Animals & Birds' Winner February/March 2020
2020 Bold Brush Award of Excellence, February 2020, 'Grand Prize' once in a lifetime award, out of 2400+ entries
2020 Susan Powell Fine Art, 'Spring Into Art' Madison, CT
2020 Susan Powell Fine Art, 'Valentine Gems' Madison, CT
2019/2020 14th International ARC Salon Live Exhibition, 'One of 99 Works from Around the World' European Museum of Modern Art (MEAM) Barcelona, Spain
2019 Susan Powell Fine Art, 'Annual Holiday Show' Madison, CT
2019 ARC 14th Annual International Salon Competition 'Honorable Mention' Award Still Life category
2019 Susan Powell Fine Art, 'Summer in New England' Madison, CT
2019 ARC 14th Annual International Salon Competition 'Finalist' in Still Life category
2019 Susan Powell Fine Art, 'Still Life Invitational' Madison, CT
2019 9th Annual Plein-Air Salon, 'Best Watercolor' Winner December/January
2018 Artist's Magazine 35th Annual Competition, 'Finalist' in Still Life Category
2018 Susan Powell Fine Art, 'Summer in New England' Madison CT
2018 American Watercolor Society, '151st Annual Exhibition' New York City
2018 Susan Powell Fine Art, 'Still Life Invitational' Madison CT
2017 Susan Powell Fine Art, 'Visions of Land & Sea' Madison CT
2017 Susan Powell Fine Art, 'Still Life Invitational' Madison CT
2017 Susan Powell Fine Art, 'Spring Show' Madison CT
2016 Portraits Inc Gallery 'In Full Bloom' New York City
2016 Susan Powell Fine Art, 'Still Life Invitational' Madison CT
2016 'Splash 18' Best of Watercolor Annual Competition 'Runner-Up'
2015 Gallery Juno 'Art Inspired by Food' Soho New York City
2015 Susan Powell Fine Art, 'Still Life Invitational' Madison CT
2014 'Splash 16' Best of Watercolor Annual Competition 'Selected Artist'
2014 ARC 11th Annual International Salon Competition 'Finalist' in Still Life Category'
2014 Watercolor Magazine 5th Annual Watermedia Showcase, 'Honorable Mention'
2014 Mattatuck Museum 'The Kent Art Colony' Exhibition, Waterbury CT
2014 Mattatuck Museum 'The Kent Art Colony' Open Studio Tour, South Kent CT
2014 Susan Powell Fine Art, 'Still Life Invitational' Madison CT
2013 ARC 10th Annual International Salon Competition 'Finalist' in Still Life Category
2013 2nd Annual Plein Air Salon, PleinAir Magazine 'Second Place Award'
2013 Duffy Gallery 'Oil & Water' Two Person Exhibition, New Milford CT
2013 'Parsons Alumni Exhibition' Parsons Gallery, New York City
2013 Susan Powell Fine Art, 'Still Life Invitational' Madison CT
2012 1st Annual Plein Air Salon, PleinAir Magazine 'Finalist'
2012 Artist's Magazine 29th Annual Art Competition, 'Finalist'
2012 Susan Powell Fine Art, 'Still Life Invitational' Madison CT
2008 Watercolor Magazine Annual Cover Competition 'Winner of Competition'
2007 Forbes Museum Gallery 'Into the heart of the Southwest' New York City
2006 American Artist & Forbes Magazine National Competition, 'One of Ten Chosen Artists'
2006 Morrison Gallery, Solo Show, Kent, CT
2006 American Watercolor Society 139th Annual Exhibition, New York City
2004 American Watercolor Society 137th Annual Exhibition, New York City
1998 American Watercolor Society 131st Annual Exhibition, New York City
1998 Society of Illustrators, 40th Annual Exhibition, New York City
1997 American Watercolor Society 130th Annual Exhibition, New York City
1997 Society of Illustrators 'Paper Back Show' New York City
1996 National Academy of Art 'Take Home a Nude' Exhibition, New York City
1996 National Portrait Institute Competition, New York City 'Honorable Mention'
1995 Windsor & Newton Annual Art Competition 'Semi-finalist'
1994 Clapp and Tuttle Gallery, 'Three Watercolorists' Woodbury CT
1993 Society of Illustrators 35th Annual Exhibition, New York City
1993 Catherine Lorillard Wolfe Annual Exhibition, New York City 'Award for Watercolor' & 'Katherine A. Lovell Memorial Award'
1992 National Academy of Design Annual Exhibition, New York City
1992 American Watercolor Society 125th Annual Exhibition, New York City
1992 National Watercolor Society Annual Exhibition, Fullerton CA 'The National Gallery Endowment Award"
1991 Barrington High School, Barrington IL 'Distinguished Graduate Award for outstanding Achievement in Art'
1990 Society of Illustrators 32nd Annual Exhibition, New York City
1988 Society of Illustrators 30th Annual Exhibition, New York City
1988 Kent Art Association, Kent, CT 'William McKillop Award for Watercolor' & 'First Prize' Members Show
1980 Society of Illustrators Annual Student Show 'Certificate of Merit'
1976-1980 Parsons School of Design 'Full Scholarship Recipient'
1976 National Scholastic Art Show, Chicago IL 'National Hallmark Honor Prize'

Education:
Burton Silverman Studio Atelier 1991 to 1994
Parsons School of Design, BFA in Illustration May 1980
School of the Art Institute of Chicago, Studies Summer 1976

Publications:
ARC 14th Annual Competition Catalog, Art Renewal Center2019/2020
ARC 11th Annual Competition Catalog, Art Renewal Center 2014/2015
Splash 16 exploring textures, Rachel Rubin Wolf, North Light Books, April 2014
ARC 10th Annual Competition Catalog, Art Renewal Center 2013/2014
Easy Solutions: Color Mixing Watercolor by M. Stephen Doherty, Rockport Publishers 1998
People in Watercolor, Betty Lou Schlemm, Rockport Publishers 1996

Articles:
American Art Collector 'Variety Show at Susan Powell Fine Art' December 2019
The New York Times 'For this Portrait Subject, No Trouble Sitting Still' by Daniel Grant July 2019
Portraits Inc 'Portraits: People, Places, and Things' by Michael Gormley September 2015
Watercolor Artist '5th Annual Watermedia Showcase Finalists' by Kelly Kane April 2014
Litchfield County Times 'Artistic Couple Shares Secrets of Love and Art"'by Shako Liu Dec 2013
Fine Art Connoisseur Magazine 'Exploring CT's Art Trail, and Beyond' by Max Gillies June 2012
Studio Magazine 'From Stagecoach Stop to Studio & Gallery"'by M. Stephen Doherty 2010
Watercolor Magazine Cover and article 'Cover Competition Finalists' Summer 2008
American Artist '20 Artists Interpret The Forbes Trinchera Ranch' by M. Stephen Doherty March 2007
Litchfield County Times "Kent Artists' Forbes Moment" by Richard W. Stevenson March 2007
Watercolor Magazine 'Speaking Through Pictures"'by M. Stephen Doherty Winter 2004
Victoria Magazine 'An Artists Portfolio' Deborah Chabrian's Style by Leslie Valentine October 1997
Watercolor Magazine 'Creating Artistic Portraits' by Dorothy Michaels Spring 1996
American Artist 'Under the Influence' students of Burton Silverman January 1993

Affiliations:
American Watercolor Society- Signature Member 1998
National Watercolor Society- Signature Member 1992
Catherine Lorillard Wolfe- Society Signature Member 1994
Read More
Click on the paintings to enlarge