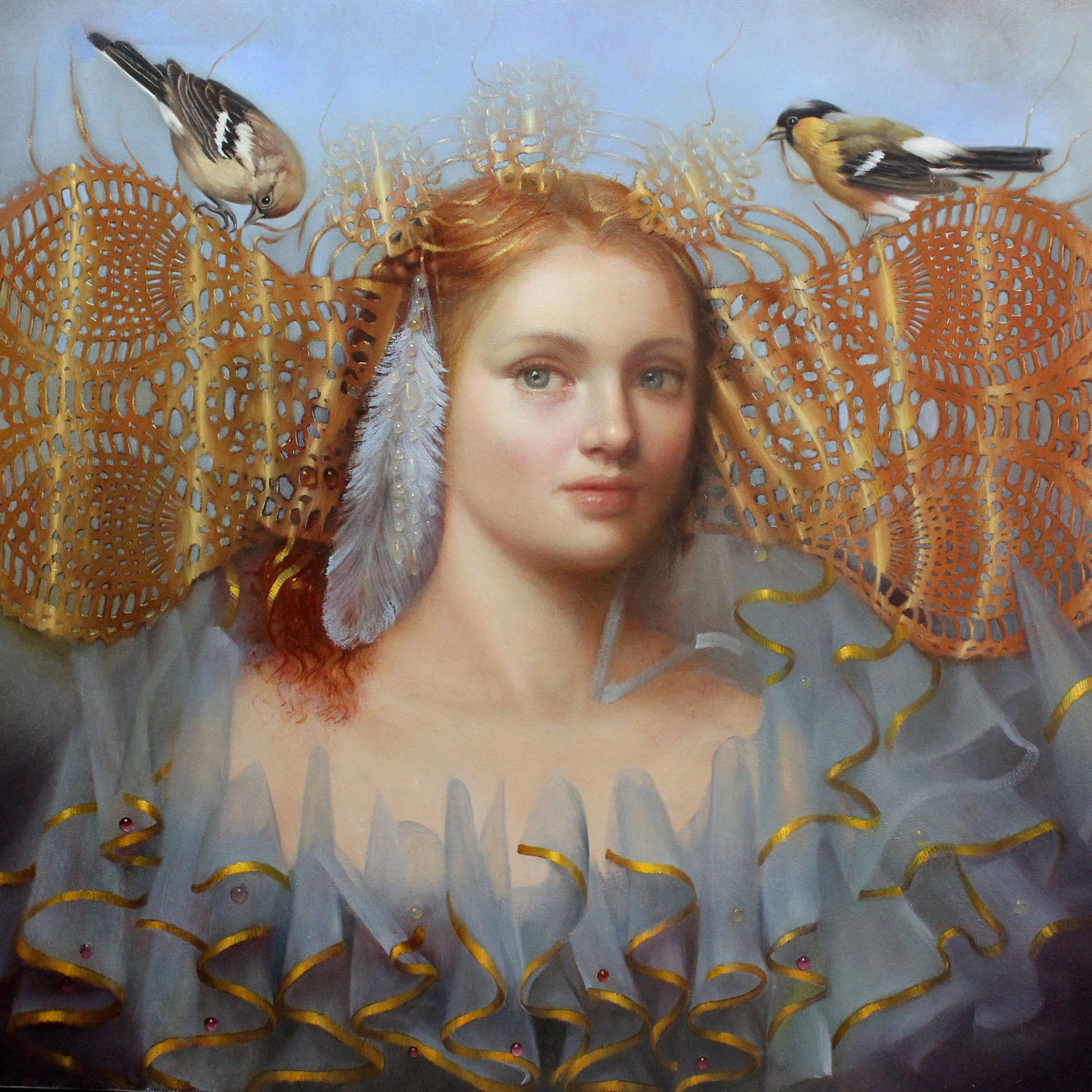 My paintings are a combination of realism, pattern, trompe l'oeil, and whimsy. I paint female figures, at times mysterious, humorous, or serene, using intense or subtle colors, textures, and gold-leaf patterns in the costumes. There is an iconic aspect to some of the women, however it is softened by their expressions. It is exciting to see a character come to life, through a combination of observation and imagination. Though most of the paintings are carefully planned, I like to allow for spontaneity, and the intangible: an element of surprise.
My technique is traditional, beginning with an underpainting, and building form and intensity of color gradually, yet always with the potential of adding an unexpected twist.
The elaborate beadwork, hairstyles, and ornaments are fun elements which help to create movement, richness, and give a sense of mystery to the paintings. Symmetry, proportion, pattern, and geometry are some of the underlying elements of my new paintings.
Gold has a spiritual significance for me. The gleam and warmth which emanates from gold adds an amber glow and a three dimensional effect to the paintings. The challenge in using gold or metal leaf is to integrate the gold into an overall scheme, rather than having it stand out as a foreign element. Gold also changes color and fluctuates under different lighting conditions, and takes on some of the color of its surroundings.

Education:
Bachelor of Fine Arts, Concordia University, Montreal, QC. 1982

Selected Exhibitions
2016 Inspirations Gallery, Lakeport, California
2015 Westmount Gallery, Toronto
2015 Galerie Vanasse, St. Lambert , Quebec
2015 The Avenue Gallery, Victoria, BC. November exhibition
2015 The Avenue Gallery, Victoria, BC "A Little Something in May" miniature exhibition
2014 Oil Painters of America Spring Showcase
2014 The Avenue Gallery, Victoria, BC. "All That Glitters" miniature exhibition
2014 Robert Lange Studios, Charleston, South Carolina, The 9th Annual Realism Show,
2014 The Malton Gallery, Cincinnati, Ohio
2013 International Guild of Realism, Tempe Center For The Arts, Tempe Arizona
2013 Women Painting Women, RJD Gallery, Sag Harbor, New York,
2012-2011 Inspirations Gallery, Lakeport, California,
2009 McCord Museum, Montreal, "Art and the Home" Mobilia Gallery, Pointe Claire, Quebec.
2007 Galerie de la Ville, Dollard des Ormeaux, Quebec
2007 "Art and the Home" Mobilia Gallery, Pointe Claire, Quebec
2006 Plattsburgh State Art Museum, Suny, Plattsburgh, NY.
2005 Stewart Hall, Pointe Claire, QC
2004 Plattsburgh State Art Museum,Suny, Plattsburgh, NY
2003 McCord Museum, group show
2002 Toronto Convention Center solo exhibit
2001 Galerie de la Ville, Dollard des Ormeaux, Quebec, solo show, "Creatures of Light"
1999-1998 Galerie Schorer, Montreal, group shows gallery artists

Interviews, Features, Publications
Art Renewal International Salon finalist (catalogue photo and online showcase 2014-15)
Oil Painters of America Honorable mention 2014
Art Renewal International Salon finalist (catalogue photo and online showcase 2013-14)
Carrie Turner interview: FASO (Fine Art Studio Online) featured artist August 2013
Southwest Art magazine November 2013
The Artist's Magazine Annual Art Competition finalist 2013
Musetouch Magazine online 2013
Contemporary Painters, Schiffer Publishing, 2012
Read More
Click on the paintings to enlarge