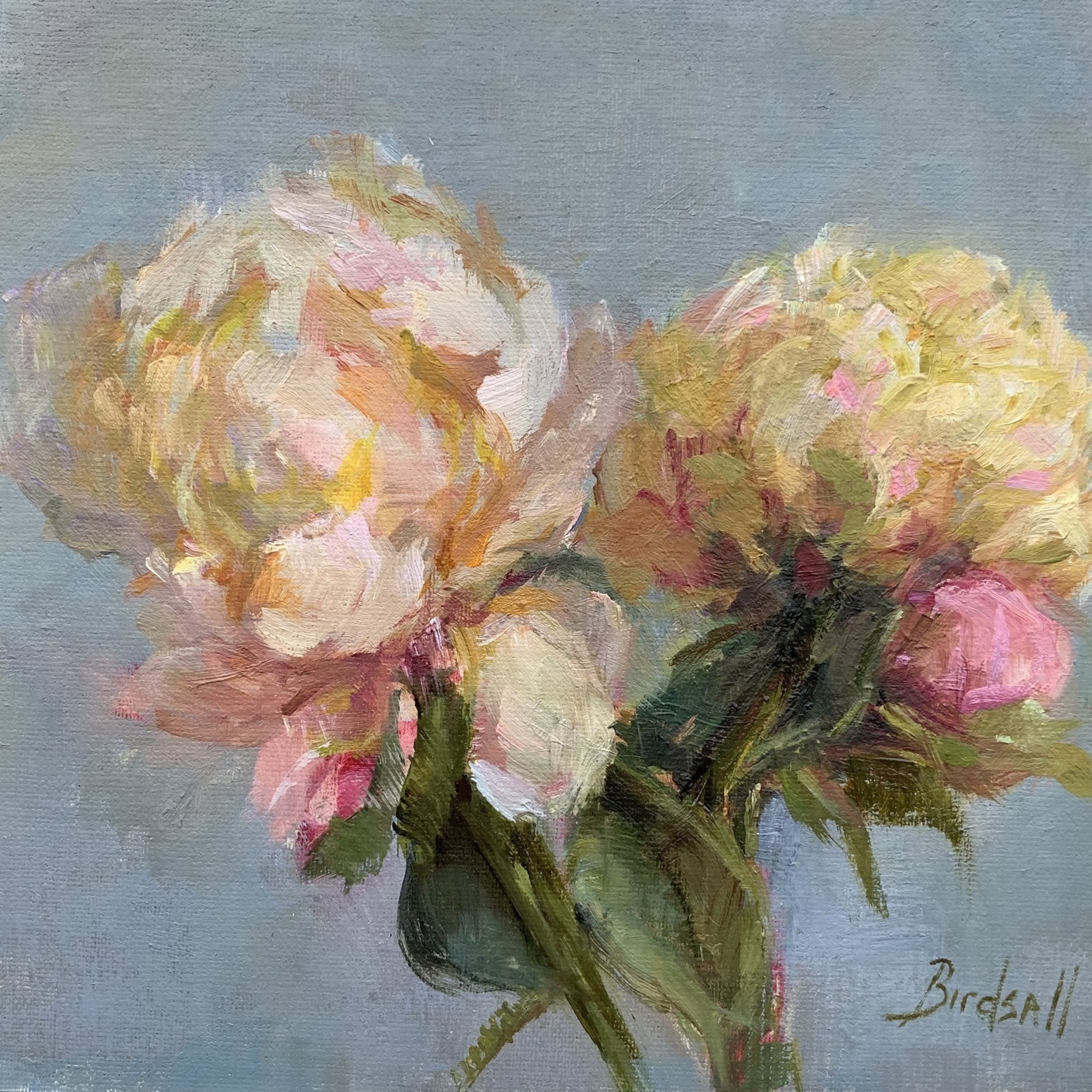 Stephanie Birdsall received her formal training at the City and Guilds of London Art School in England. After graduation she spent time traveling through Europe honing her skills as a plein air painter. Upon her return to the United States, Stephanie continued her study under several top artists including: Doug Dawson, Albert Handel, Ramon Kelly, and Frank Federico and has been fortunate to paint under the tutelage of Richard Schmid and the Putney Painters for the past three years.
Her work has garnered recognition and more than 50 major awards in national and international juried exhibitions. She has exhibited at the Royal Academy Summer Exhibition in London, England, Bargemon in France and at the National Arts Club in New York. Among the awards she has received are Best in Show at the Bridgeport Museum of Arts and Science, the Grumbacher Gold Medallion Award, the Degas Pastel Society Exceptional Merit Award,the Connecticut Pastel Society Herman Margulies Award and the Catherine Lorillard Wolfe Art Club, John Manship Award. In 2004 her work was selected by the National Academy of the Arts for inclusion in the Arts for the Parks National Exhibition.
Stephanie and her work have been featured in popular publications such as International Artist Magazine, Southwest Art, Plein Air Magazine and The Pastel Journal. Public Broadcasting station WGCU aired a special on her work in June of 2005 as part of their "Expressions" television series.
Stephanie's work is among the permanent collections of the Museum of the Everglades, Everglades National Monument; Florida Museum of Art & Culture, The Florida State Art Collection at the Florida State Capital and The Sonoran Desert Museum in Tucson Arizona. Stephanie was honored with a successful one-women show at the Florida Museum of Art and Culture in 2006.
Stephanie is a distinguished workshop instructor. When not traveling on location to paint plein air, she spends her time working and teaching in her studio in Redding, CT.

Artist Statement
I always paint from life. I believe it to be the ultimate in representational art because it is about real experience and demands the highest level of skill. When you paint from life, the subject, the environment and you interact as one together. I am constantly inspired by the beauty of this world, each moment is precious, infused with feeling and worthy of recording. I paint the moment. The instant a subject captures my attention; it is etched in my mind. I work to convey the feeling of the moment. My life and soul are dedicated to art and I have been blessed with the freedom to live my life as an artist. There has never been anything else I wanted to be or do.

Exhibitions
20 Oil Painters of America, National Exhibition, RS Hanna Gallery, Fredericksburg, TX
2020 - Oil Painters of America, Salon Show
2020 - "While We Were Still", Turner Fine Art, Jackson Hole, Wyo.
2018-19 - Salmagundi Club, NY, Members Exhibition
2019 - Oil Painters of America, National Exhibition, Illume Gallery, St George,, Utah
2018-2019 - Legacy Gallery's Holiday Small Works Show, Scottsdale, AZ,
2018-2019 - Susan Powell Fine Art Still life Invitational
2017 - West Wind Fine Art, "Messengers of Joy", Oct, Colorado Spring, CO
2017 - Settlers West Gallery, Annual American Miniature Show, Tucson, AZ
2016 - Oil Painters of America, Eastern Regional Exhibition, Eisele Gallery of Fine Art, Cincinnati, OH
2016 - "In Full Bloom", Invitational, Portraits, Inc., New York and Birmingham
2016 - Salmagundi Club, "Members Juried Exhibition", New York,New York
2016, 2017 - Susan Powell Fine Art, Still Life Invitational, Madison, CT
2016, '15, '14, '13, '12, '11,'10, '08 Settlers West Gallery, Annual American Miniature Show, Tucson, AZ
2017, 2016, '15, '14 - "Where in the World Is Plein Air ...", Illume Gallery, Salt Lake City, Utah
2014 - Les Femmes de Galerie, Saks Galleries, Denver, CO.
2014 - Oil Painters of America, National Juried Exhibition, Bennington Center for the Arts, Bennington, Vt
2014 - American Women Artists, Invited Honorary Master, Addison Art Gallery, Mass.
2014, ' 13, '12, '11 American Art Invitational, Saks Galleries, Denver, CO
2013 - Small Treasures International, West Wind Fine Art, Boston, MA
2013, '12, '11, '10, '08, '07, '06, '04 Pastel Society of America, Annual Exhibition, National Arts Club, NY
2013, '12, '11, '10, '08, '07, '06 Rocky Mountain Plein Air Paint Out, Jackson Hole, WY
2013, '12 Putney Painter Exhibition at Legacy Gallery, Scottsdale AZ
2014, '13, '12, '11, '10 Windows to the Divine, Plein Air Paint Out And Exhibit, Madden Museum, Denver, CO
2012, '11 Legacy Gallery, Scottsdale Salon Of Fine Art, Scottsdale, AZ
2014, '13, '12, '11, '10, '09, '08, '07 Susan Powell Fine Art Gallery, Madison, CT
2013, '12, '11, '10, '09 Mark Twain Library, Annual Arts Show, Redding CT
2012 '11 Legacy Gallery, Small Works Show, Scottsdale, AZ
2012, '11, '10 Evergreen Fine Art Gallery, Small Works Show, Evergreen CO
2013, '11, '10, '09 Salmagundi Club, Annual Members Exhibition, New York, NY
2012, '11, '10, 09, '08, '07, '06 Mountain Oyster Club, Annual Western Art Show, Tucson, AZ
2014, '13, '12, '11, '10, '09, '08 Scottsdale Artists' School, Beaux Arts, Scottsdale, AZ
2011 Oil Painters of America, Western Regional, Lee Youngman Galleries, Calistoga, CA
2011, '10, '09, '08, '07 C.M. Russell Art Auction, Great Falls, MT
2011 Howard Mandville Gallery, Invitational Small Works Show, Kirkland, WA
2011 Masters Circle Exhibition, International Association of Pastel Societies, Albuquerque, NM
2010, '09 Salmagundi Club, Annual Thumb Box Exhibition, NY
2010, '09, '08, '07, '06 Putney Painters Exhibition, Susan Powell Fine Art Gallery, Madison, CT
2009 Salmagundi Club, Fall Auction and Exhibition, NY
2009 National Arts Club NYC, 150th Anniversary Celebration of the Artists' Fellowship, NY
2009 Oil Painters of America, National Juried Exhibition of Traditional Oils, Santa Fe, NM
2009 Nomades del Arte Exhibition, Keystone Artist, Dallas TX
2008 Talisman Gallery 44th Anniversary Show, Bartlesville, OK
2008 Renaissance in Pastel Exhibition, The Pastel Society of Connecticut Annual Exhibition, CT
2008 National Pastel Painting Exhibition, Pastel Society of New Mexico, Albuquerque, NM
2008 Tucson Plein Air Painters, Artists Member Exhibition, Desert Museum, Tucson AZ
2008 Nomades Del Artes Invited Artist, Sagebrush Gallery, Santa Fe, NM.
2008 The Munger-Chadwick Foundation Second Annual Art Show, Tucson AZ
2007 Women Artists of the West, Hilligoss Galleries, Chicago, IL
2007 National Arts Club NYC, Catherine Lorrillard Wolfe Art Club, Annual Exhibition, NY
2007 National Arts Club Round Table Exhibition, The National Arts Club, New York, NY
2007 Society of Master Impressionists International Exhibition, Sunset Gallery, Amarillo, TX
2007 Richard Schmid Fine Art Auction, Rist Canyon, CO
2007 Talisman Gallery 43rd Anniversary Show, Bartlesville, OK
2007 International Association of Pastel Societies Annual Exhibition, Naples, FL
2006 One Women Exhibition, Florida Museum of Art & Culture, FL
2006 Degas Pastel Society, 11th Biennial National Exhibition, New Orleans, LA
2006 Lone Star Pastel Society,National Show, Amarillo, TX
2006 Richard Schmid Fine Arts Auction, Bellevue, CO
2006 Connecticut Pastel Society, Renaissance in Pastel, Slater Museum, Norwich, CT
2006 Catherine Lorillard Wolfe Arts Club Exhibit, Water Hill Museum, NY
2006 National Arts Club, Annual Round Table Show, New York, NY
2006 Susan Powell Fine Arts Gallery, Rising Stars, two person exhibition, Madison, CT
2005 Richard Schmid Fine Arts Auction, Bellevue, CO
2005 National Pastel Painting Exhibition Pastel Society of New Mexico, Albuquerque, NM
2005 Degas Pastel Society 14th Annual Member's Exhibition, New Orleans, LA
2005 National Arts Club NYC, Annual Exhibition, Catherine Lorillard Wolfe Art Club, NY
2005 Hudson Valley Art Association, 74th Annual Exhibition, Hastings-on-Hudson, NY
2005 International Association of Pastel Societies, Art Source Gallery, Raleigh, NC
2005 Village Arts, Richard Schmid & The Putney Painters, Putney, VT
2005 National Association of Women Artists Annual Exhibition, New York, NY
2005 Pastels Gone Wild, United Arts Council of Collier County, FL
2004 Arts for the Parks, National Park Academy of the Arts, Jackson Hole, WY
2004 Allied Arts of America, National Arts Club, Annual Exhibition, NY
2004 Village Arts of Putney, Putney Painters, VT
2004 National Arts Club NYC, Catherine Lorillard Wolfe Annual Exhibition, NY
2004 Pastel's Only on Cape Cod, Pastel Society of Cape Cod, Arts Center, Chatham, MA
2004 Richard Schmid Fine Arts Auction, Bellevue, CO
2004 Biennial National Exhibition, Degas Pastel Society, New Orleans, LA
2004 Annual National Show, Pastel Society of New Mexico, Albuquerque, NM
2004 National Show, Great Lakes Pastel Society, Grosse Pointe, MI
2004 Mile High National Exhibition, Pastel Society of Colorado, Denver, CO
2004 International Exhibition, Northwest Pastel Society, Everett, WA
2004 Oil Painter of America, Eastern Regional Juried Exhibition, Kewaunee, WI
2004 Group Show, Peninsula Gallery, Lewes, DL
2004 Pastel Society International Show, Marietta-Cobb Museum of Art, GA
2004 Pastel Society of the West Coast Membership Show Arts Center, Auburn, CA
2004 International Association of Pastel Societies, Bernam Gallery, Bethlehem, PA
2004 Pastels 2004, Pastel Society of North Florida, Fort Walton Beach, FL
2004 The Pastel National, Wichita Center for the Arts, Wichita, KS
2004 National Art Exhibit, Charlotte County Art Guild, Punta Gorda, FL
2003 National Exhibition, West Hartford Art League, West Hartford, CT
2003 National Pastel Exhibition, Lone Star Pastel Society, Amarillo, TX
2003 Annual National Pastel Exhibition, Pastel Society of New Mexico, Albuquerque, NM
2003 View Point 2003, Cincinnati Art Club, Cincinnati, OH
2002 International Association of Pastel Societies Competition, Chablis Gallery, Placerville, CA
2002 Pastels 2002, Pastel Society of North Florida, Fort Walton Beach, FL
2002 Gallery on Fifth, Naples, FL
2001 Seaweed Gallery, Sanibel Island, FL
1999 Durango Arts Center, Juried Exhibition, Durango, CO
1991 Atelier La Jolla, La Jolla, CA
1988 Ankrum Gallery, Image Catchers, Los Angeles, CA
1982 Cathleen's Gallery, Atlanta, GA
1981 Gallery Illien, Atlanta, GA
1978 One Women Show, Hands of Man Gallery, Weston, CT
1977 Bridgeport Museum of Art and Science, Bridgeport, CT
1975 The Royal Academy of London Summer Exhibition, London, England, UK
1975 OBM, Outset Exhibition, London, England, UK
1975 Guildhall, London, England, UK

Awards
2017, Sylvia Glesmann, 2nd prize
2014, Members Show Award
2013 Pastel Society of America, Annual Exhibition, National Arts Club, Master Pastelist Award Award
2013 Pastel Society of America, Annual Exhibition, National Art's Club, Tampa Bay Award
2013 Salmagundi Club, "Honorable Mention For Outstanding Work", Summer Online Exhibition
2013 Finalist, Bold Brush Painting Competition Fine Art Studio Online
2013 Pastel Journal, Pastel 100.
2012 Pastel Society of America, Florence S. Prisant, PSA Award in Memory of Flora B. Giffuni, Annual Exhibition, NY
2012 Best of Show, Boldbrush Painting Competition, Fine Art Studio Online
2011 Boldbrush Painting Competition Fine Art Studio Online
2011 Saks Fine Art Gallery Small Gems Exhibition, Collector's Choice Award, Denver
2011 Salmagundi Club, Sylvia Maria Glesmann Award for Floral/Still Life, New York
2009 FineArt Views Painting Competition, November, Outstanding Pastel
2009 Prizma Virtual Gallery Winter Competition, Second Place
2008 Painter's Challenge Award, Create Better Paintings.Com First Annual Competition
2008 The Pastel Society of Connecticut, The Winsor Newton Pastel Award
2008 Pastel Society of America 36th Annual Exhibition, Heydenryk Award
2008 Rockey Mountain Plein Air Painters' National Show and Paint Out Award of Excellence
2008 Artists Guild of Northwest Georgia 1st Annual Online Contest First Place
2008 Artists Guild of Northwest Georgia 1st Annual Online Contest Second Place
2008 Artists Guild of Northwest Georgia 1st Annual Online Contest People's Choice Award
2007 International Association of Pastel Societies, Masters Award
2006 Degas Pastel Society, Louisiana Water Color Society Award of Merit
2006 Lone Star Pastel Society, National Pastel Exhibition, 3rd Place
2005 Pastel Society of New Mexico Annual Exhibition Artisan/Santa Fe Award
2005 International Artist Magazine Finalist in Artist's Art Prize challenge # 28: Your Favorite Subject
2005 The Pastel Journal 6th Annual Pastel 100
2005 Degas Pastel Society, Award of Excellence
2005 United Arts Council of Collier County, Pastel Gone Wild Award
2004 Connecticut Pastel Society, Herman Margulies Award
2004 Degas Pastel Society, Exceptional Merit Award
2004 Arts for The Parks Finalist
2004 Catherine Lorillard Wolfe Art Club, John Manship Landscape Award
2004 Southeastern Pastel Society, Eleventh International Show: Exceptional Merit Award
2004 Pastel Painters of Cape Cod, For Pastel Only: Pastel Painters of Maine Award
2004 Great Lakes Pastel Society, National Exhibition: Holbein Award
2004 Northwest Pastel Society's 18th International: Eastside Association Fine Arts Award
2004 Pastel Society of the West Coast, Membership Exhibition: Award of Merit
2004 Pastel Society of the West Coast, Membership Exhibition, Honorable Mention
2004 Wichita Center for the Arts, Pastel National: 2nd Place
2004 Pastel Society of North Florida, National Exhibition: Grumbacher Gold Medallion
2003 Lone Star Pastel Society, National Pastel Exhibition: 2nd Place
2003 Lone Star Pastel Society, National Pastel Exhibition: Honorable Mention
2002 Pastel Society of Northern Florida, Pastel Show: Daniel Smith Award
1977 Bridgeport Museum of Arts & Sciences, Barnum Art Show: Best in Show
1977 Bridgeport Museum of Arts & Sciences, Barnum Art Show: First Prize Graphic
1976 Painter-Stainer Bursar Award, London
1975 Guildhall Etching Award, London
1975 London Royal Academy Exhibition

Professional Affiliations
Putney Painters
Oil Painters of America, Signature Member
Pastel Society of America, Master Pastellist
Salmagundi Club
International Association of Pastel Societies - Masters Circle
Rocky Mountain Plein Air Painters

Permanent Museum Collections
Museum of the Everglades, Everglades National Monument, FL
Florida Museum of Art & Culture, Avon Park, FL
Florida State Art Collection, Florida State Capitol, Tallahassee, FL
Arizona Sonora Desert Museum, Tucson, AZ

Publications Books & Magazines
2014 June, "Fine Art Connoisseur", "Today's Masters" , "A Bouquet for Spring"
2013 American Art Collector, November, Small Treasures
2012 Southwest Art Magazine, July, Plein Air for the Park, Rosemary Carstens
2012 Plein Air Magazine, July, Paint the Adirondacks
2012 American Art Collector, March, From Bud to Bloom, Collecting Floral Art
2012 Southwest Art Magazine, February, Small Wonders, Hoerth & Kristen
2012 Southwest Art Magazine, January, Putney Painters Show
2011 Southwest Art Magazine, October, Magnificent Obsession
2011 Southwest Art Magazine, October, Magnificent Obsession
2010 Southwest Art Magazine, December, A Passionate Group; The Putney Painters, Bonnie Gangelhoff
2010 The Pastel Journal, December, A Tale of Two Studios, Deborah Secor
2010 Southwest Art Magazine, January, Chasing the Light, Mark Mussari
2009 Best of America Pastel Artists, Volume II
2009 American Art Collector, May, "Oil Painters of America 18th Annual National Juried Exhibition"
2008 Southwestern Art Magazine, Best of The West, August
2008 American Art Collector, March, "Calling Coast to Coast: Susan Powell Fine Art Gallery"
2008 Sandpaper, July, "Featured Artist" Terry Long
2007 The Pastel Journal, August, Sarah A. Strickley, "The Heart's Many Homes"
2007 The Artists Magazine, March, Maggie Price, "Secrets of Stars"; pg.44 -49
2006 Book: Sylvie Cabal, Art Du Pastel en France, La Maison de l'Horloge
2006 Expressions Magazine, January, Joel Banow, "The Art of Southwest Florida" p.23
2005 International Artist Magazine, Aug/Sept Issue pg. 9 Art Prize Challenge # 28; Finalist
2005 The Pastel Journal January - February, Pastel 100
2005 Book: Sara Schlussel and Ron James, Parks Portrayed in Pen and Paint
2004 Book: Dunbier, Lonni Pierson, Artist's Blue Book, American Artists
2004 Book: Miller, Vincent, How Did You Paint That? 100 Ways to Paint Still Lifes and Florals Vol. II, International Artist
2004 Feature Article, Naples Sun Times, Sept. 2004
2004 - 2013 Who's Who in American Art

Television and Radio
Kathryn LLoyds, "Secrets Of The Masters"
ArtistsNetwork TV Interview with Stephanie Birdsall, Sept. 13, 2012
PBS Special "Expressions" "The Art of Stephanie Birdsall" WGCU TV June 17,2005
Read More
Click on the paintings to enlarge