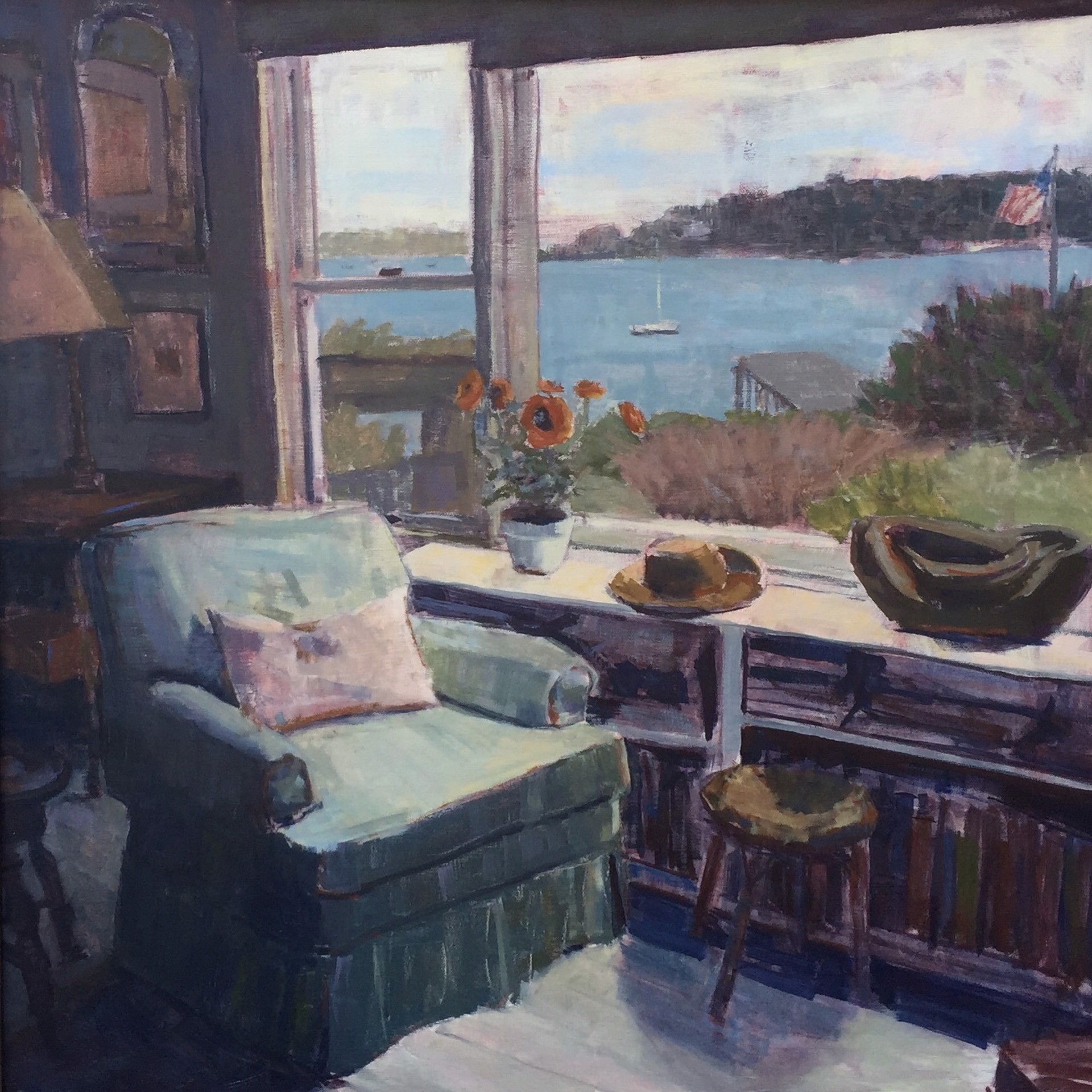 Creating art has been a passion since I took my first class at the Lyme Academy in 1999 and began a journey of tapping into a field of creativity that was transcending. The first decade was spent learning the classical methods of drawing and painting, however, I eventually realized the importance of shifting away from left-brain thinking to a more intuitive, spontaneous approach to each canvas in order to grow in my work.
My favorite thing about creating art is the experience of deep connection I feel when painting a landscape or figurative subject. Like meditation, I am able to achieve a state of flow, where action and awareness merge and I literally resonate with my subject.
As a student of meditation and consciousness, I understand the importance of engaging all my senses in the painting process. I still use the same tools I began with, a limited palette, and either oil or acrylic paint, but I now bring a capacity to not just render a subject as technically accurate but to also see beyond what is visible and create a more felt experience.
I generally paint on small canvas or panel from life, working out the composition and local color. These panels are used to develop larger paintings in the studio. I also use photo references to help with figures and other moving characters to gain better accuracy in my landscapes.
My favorite painting locations are the rocky shores of Maine and Monhegan Island. I also enjoy the shoreline towns of Connecticut and discovering unexpected narratives. My goal is to invite the viewer of the painting to experience the level of depth and heart connection that I have when creating it.
Education
1999-2005 Drawing and Painting, Lyme Academy College of Fine Art, Old Lyme, CT
1981-1985 BS Chemistry, Indiana University, Bloomington, IN
Awards
2009 Emerald Aisle Award, Madison Art Society 34th Juried Exhibition
2005 Physicians Award, Madison Art Society 30th Juried Exhibition
Exhibitions
2015 Summer Along the Shore, Susan Powell Fine Art, Madison, CT
2015 School House Deli Exhibit, Madison, CT
2014 Summer Along the Shore, Susan Powell Fine Art, Madison, CT
2014 Sound Homes Exhibition, Guilford, CT
2013 Summer Along the Shore, Susan Powell Fine Art, Madison, CT
2012 Annual Juried Exhibition, New Haven Paint and Clay Club, New Haven, CT
2011 90th Annual Elected Artist Exhibition, Lyme Art Association, Old Lyme, CT
2011 Celebrating Lyme's Beauty: Paintings of the Grassy Hill Preserve, Lyman Allyn Museum
2011 Summer in CT, Susan Powell Fine Art, Madison, CT
2010 Deck The Walls, Lyme Art Association, Old Lyme, CT
2010 New England Landscape Invitational, Lyme Art Association
2010 Summer in CT, Susan Powell Fine Art, Madison, CT
2010 Exibit #2, Gallery on Main, Niantic, CT
2010 Exhibition of Seven, Southport Gallery, Southport, CT
2010 Madison Art Society 35th Juried Exhibition
2010 Wet Paint for Lyme Disease Research Exhibition, University of New Haven
2009 Deck the Walls, Lyme Art Association, Old Lyme
2009 Paintings in the Academy Tradition, Stony Creek Gallery
2009 Invitational Plein Air Paint Out, Susan Powell Fine Art
2009 Wet Paint Silent Auction, Stony Creek Gallery
2009 Florence Griswold Museum Annual Invitational Fundraiser
2009 Madison Art Society 34th Juried Exhibition
2009 Juried Spring Exhibition, Lyme Art Association
2009 17th Annual Associate Artist Exhibition, Lyme Art Association
2008 32nd Annual Juried Alumni Exhibition, Lyme Academy College of Fine Art
2008 All Paintings Great and Small, Cooley Gallery
2008 Touring Connecticut, CT Commission on Culture & Tourism Gallery
2008 New England Landscapes, Ruggiero Gallery
2008 Along the Shore – Plein Air Paintings, Susan Powell Fine Art
2008 1st Juried Exhibition- A Sense of Place, Sylvan Gallery
2008 Painting from Life: Figure and Portrait Works, Ruggiero Gallery
2007 Traditions & Treasures: Large and Small Works, Ruggiero Gallery
2007 Teachers and Friends, Ruggiero Gallery
2005 30th Juried Exhibition, Madison Art Society
Professional Associations
Elected Artist Member, Lyme Art Association, Old Lyme, CT
Madison Art Association, Madison, CT
Read More
Click on the paintings to enlarge